In 1763, our mainland was named Grenada when the British gained control from the French who had named the country La Grenada. The name originates from Granada given by the Spaniards in the 1520s.

When the British regained control, they failed in their attempts to rid the island of French influences imposed since 1649 when the French settled the island. Years on, our islands reveal influences of Amerindian customs, French and English settlement fused with African, East Indian and Caribbean ancestry.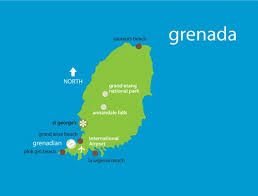 The first people believed to have settled in Grenada were the Arawak-speaking Amerindians from South America. Archaeological sites have unearthed evidence of these settlers, which reveal skilled agriculturists and fishermen who built their own boats, leaving behind skills that remain with us today.

Other archaeological treasures are the petroglyphs at Duquesne Bay in the Parish of St. Mark, where carvings on large boulders depict faces and drawings from the past.
The National Museum in our capital city St. George's, Carriacou Museum on the island of Carriacou and Rome Museum at Walker in the Parish of St. Andrew house rare antiques and collectibles from Grenadians of the past.

There are also several historical sites preserved - and in some cases, restored - offering a physical experience of invasions, battles and tragedies throughout our history. On February 7th 1974, Grenada became the first Windward and Leeward Island to become a sovereign state.

Each year on this day, we recognice this achievement through formal and informal traditions to commemorate the independence of our islands, from the formal 'march pass' by uniformed contingents and official presentations at our National Stadium to family picnics, beach parties and sporting events.


Visitors travelling to Grenada in the month of February, can relish in our Independence celebrations by feasting on a plate of 'oil down' – breadfruit slow-cooked with meat, fish and vegetable combinations, absorbing the wonderful flavour of callaloo and coconut milk.