Central America is composed of five countries: Guatemala, Honduras, El Salvador, Nicaragua and Costa Rica.
On a peculiar note of geography, they are two other countries that are attached (border with) to the other five Central America countries, but are not consider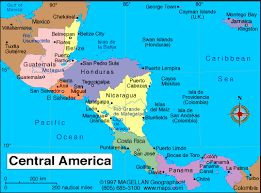 ed to be part of Central America.
Belize is boarder with Guatemala and Mexico. Belize is a former colony of Great Britain
then,
On the other extreme end is Panama which is boarder with Costa Rica and Colombia
Centro America esta compuesta por cinco paises: Guatemala, El Salvador, Honduras, Nicaragua y Costa Rica. En un peculiar geografico, hay dos mas paises que aunque estan pegados (fronterizo) con los cinco paises, aun asi, no se consideran como paises Centro Americano.
Belice auque esta fronterizo con Guatemala y Mexico, no es considerado como pais centroamericano. Al igual, Panama esta fronterizo con Costa Rica y Colombia, pero ni asi es considerado como pais centroamericano, ni tampoco sur Americano.