Bonaire is a Caribbean island east of Central America and north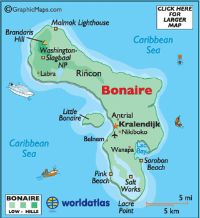 of Venezuela. The island is part of the ABC Islands together with Aruba and Curaçao. It is a flat, riverless island renowned for its dive spots.

Its tropical climate is moderated by constant trade winds from the Atlantic Ocean. The temperature is almost constant at about 27 degrees Celsius (81 degrees Fahrenheit).


Politically, Bonaire is a "special municipality" fully integrated in the Netherlands proper.
Climate
Tropical marine; little seasonal temperature variation. "Rainy" season lasts from the last week of October to the end of January, but it is still relatively dry. During rainy season, late night and early morning rains are common, usually clearing shortly after sunrise.


Terrain
The island is flat especially the southern end with hills in the north. It is a dry island with little rainfall and the vegetation is typical of this climate. There are few natural resources other than beaches, beautiful offshore reefs and the solar salt works.


The northern part of the island is a protected park. The southern tip of the island is a great field for sea salt production. Klein Bonaire is a small uninhabited island offshore.


Get in
Despite being part of European Netherlands, Bonaire exists outside the Schengen Area, therefore has its own entery laws seperate from the E.U.

Dutch Nationals and Citizens
Although Bonaire is part of the European Netherlands makeup, those living ouside the public bodies of Bonaire, Sint Eustatius, and Saba have limited freedom to visit Bonaire.

Dutch nationals and citizens living outside the public bodies can visit Bonaire visa-free for 6 months. The Dutch identity card is not valid in Bonaire, instead the Identity card BES is required to enter Bonaire.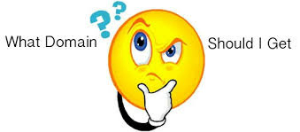 DOMAIN NAMES SEARCH
Visa-free
Those living in the countries and territories listed below can visit Bonaire visa-free for 30 to 60 days.
European Union/European Free Trade Association countries, Albania, Antigua and Barbuda, Argentina,Australia, Bahamas, Belize, Bosnia and Herzegovina, Brazil. Brunei, Canada, Chile, Costa Rica, Dominica,Ecuador, El Salvador, Grenada, Guatemala, Guyana, Honduras, Hong Kong, Israel, Japan, Macau,Macedonia, Malaysia, Mairitius, Mexico, Moldova, Montenegro, New Zealand, Nicaragua, Panama,Paraguay, Saint Kitts and Nevis, Saint Lucia, Saint Vincent and the Grenadines, San Marino, Serbia,Seychelles, Singapore, Suriname, South Korea, Taiwan, Trinidad and Tobago, United Arab Emirates,United States, Vatican City, andVenezuela.


Those living in British Overseas Territories must follow the same visa exempt policy as the other countries

Citizens of Canada, European Netherlands, Ireland, Saint Martin, a Schengen country, United States,United Kingdom holding a valid residence permit of the country/territory you live in are exempted from the visa requirement.


Captain, crew and passangers aboard a ship or aircraft are exempted from the visa requirement for no longer than 48 hours.
Those holding a official United Nations Laissez-Passer are exepmted from the visa requirement.